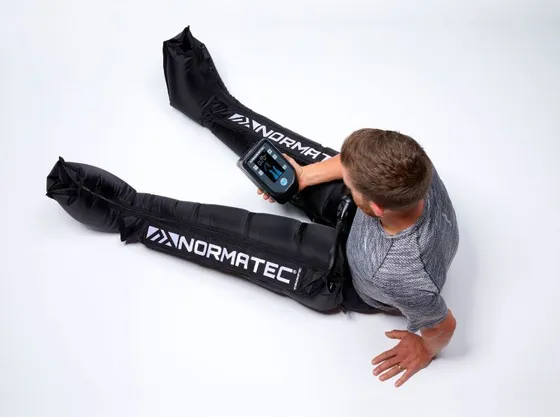 Normatec Compression Technology
We're extremely excited to offer Normatec Compression Technology to our patients here at the office! If you're a sports fan, you may have seen these space-age looking boots online, on TV or maybe even in person. If you do a Google image search for "Normatec", one of the first pictures you'll see is LeBron James on a trainers table, wearing a pair of Normatec boots. Even if you've seen them, you still may be unsure about what they do, how they work and what benefits they provide.

What is Normatec Compression?
Normatec is a recovery and rehabilitative therapy that uses dynamic pneumatic compression to massage your legs, hips or arms. Through the use of compressed air, it helps to mobilize fluid and inflammation, relax muscles, improve localized blood flow and speed recovery time. The basis of therapy that Normatec utilizes has been around dating back to 1800's. In the 1950's, one of the first static compression devices were - socks! Back then and today, compression socks are used to help decrease swelling in the legs. Mechanical compression devices began to be used in the 1970's and 1980's and have been effective in reducing, and flushing out, swelling in the limbs for those that suffer from lymphedema and other conditions that can cause swelling in the limbs. Normatec was founded in 1998 by Dr. Laura Jacobs. A rehabilitative physician and PhD bioengineer, Dr. Jacobs developed Normatec's patented sequential pulse technology to aid in the recovery of post-surgical, radiation treatment, trauma patients and those with circulation-related conditions. In recent years, Normatec's parent company, HyperIce, has helped take this technology and apply it to the sports world with great results and tremendous feedback from athletes of all levels. Today, with HyperIce's partnerships with the NFL, NBA, MLB, PGA tour, the UFC and various US Olympic and national teams, Normatec Recovery Rooms have become staples in many teams' training rooms and facilities with Normatec technology being used by countless college, professional and Olympic athletes today.

How Does it Work?
To begin a Normatec session, you'll start by putting on either the boots, arm sleeves or hip and pelvis attachment (we like to call these the hockey pants) and lay back on one of our therapy tables. Using the control unit, we can customize the time, pressure and areas to cover for your treatment, even being able to give some areas more of a boost than others. Once your treatment begins, you will feel the compressed air begin inflating either at your feet, hips or hands and wrist, similar to a blood pressure cuff. With its sequential pulse technology it then begins inflating and deflating in zones, moving upwards, mimicking the natural pump of your muscles.
What Are its Benefits?

Normatec' s pulse technology works to essentially flush the areas being treated. Again, by mimicking the natural pump of your muscles, Normatec works to:
Mobilize fluid and reduce inflammation
Relax tight and sore muscles and joints
Improve localized blood flow and circulation
Speed recovery and rehabilitation time
What Can it be Used For?

We've toted a lot of its use for athletes here, but Normatec can be used to effectively treat a variety of injuries, conditions and aches and pains. While athletes and active individuals can use Normatec to reduce muscle pain and soreness and reduce recovery time (think post-leg day!), it can also be used to effectively treat not only sports-related injuries, but also foot pain like plantar fasciitis, ankle sprains, knee pain, arthritis pain, sore hips, lower back pain and even those with shoulder and elbow pain.
If you would like more information about Normatec, or if you
would like to book a treatment session, please call our office!

To learn more about Normatec and other HyperIce products, visit their website at HyperIce.com