Charles J. Flood, B.S., D.C.
Dr. Charlie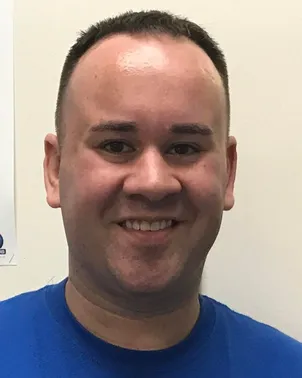 Hello, I hope you're enjoying our office website. I'd like to share a little about myself with you here. I grew up in Northeast Philadelphia and have been involved in sports for as long as I can remember. I graduated from Archbishop Ryan High School in 1998 where I played both lacrosse and football. After High School, I went to Lock Haven University where I played lacrosse and graduated with my Bachelors Degree in Health Science in 2002. I had initially enrolled at LHU as an athletic training major, but when a friend changed their major from athletic training to pre-med for chiropractic and explained why, it was enough to make me reconsider my major too.

After learning more about the profession and its history, I was quickly drawn to the combination of the natural principles that chiropractic is based on and the active role that many chiropractic patients took in their care. I shared a strong belief in the wellness paradigm that focuses on of utilizing chiropractic care when you are healthy and without any outward pain or symptoms to maintain your health rather than the sickness paradigm, that unfortunately is what many of us have grown up with, in the belief that you only see the doctor when you're sick. I think chiropractic has it right when it comes to the saying 'It's easier to stay well than to get well'.

After LHU, I went on to New York Chiropractic College. After three and a half years of an extensive curriculum that included chiropractic technique, anatomy, neurology, pathology, radiology, nutrition, clinical assessment, rehabilitation and a fourteen month internship, I received my Doctor of Chiropractic Degree and graduated with honors.
I absolutely love what I do! There is nothing quite like the feeling I get every day from seeing my patients get well, recover from their injuries and helping them learn about the role that chiropractic can play in their pursuit of optimal health. From adults, teenagers and seniors to children and infants, blue collar and white collar workers to athletes and everyone in between, I truly believe that chiropractic can benefit anyone and everyone!
Outside the office, I'm a very family-oriented person and enjoy spending my free time with family and friends. I'm always more than willing to help both my patients and anyone else interested in learning more about chiropractic and how it can benefit them. If you would like to contact me, please feel free to visit the office or call or email me. Have a great day!
Email Dr. Charlie at [email protected]
OFFICE EXPERIENCE
Lower Bucks Total Health and Wellness Center, P.C., Owner, October 2007 - Present
Oxford Valley Chiropractic and Sports Injuries, P.C., Independent Contractor, March 2006 - September 2007

EDUCATION

Doctor of Chiropractic
New York Chiropractic College, Seneca Falls, NY
September 2002 - November 2005
- Graduated Cum Laude
- Named to Dean's List 8 of 10 trimesters
- Phi Chi Omega Chiropractic Honor Society member

Bachelor of Science
Lock Haven University, Lock Haven, PA September 1998 - May 2002
- Health Science Major
- Named to Dean's List 3 of 8 semesters

LICENSES AND CERTIFICATIONS

- National Board of Chiropractic Examiners
- Pennsylvania Chiropractic License
- Pennsylvania Adjunctive Therapy License
- RockTape Fascial Movement Taping

AWARDS AND RECOGNITIONS

2021 Bucks County Courier Times' 'Best of Bucks' Chiropractor
2020 Bucks County Courier Times' 'Best of Bucks' Chiropractor
2019 Bucks County Courier Times' 'Best of Bucks' Chiropractor
2018 Bucks County Courier Times' 'Best of Bucks' Chiropractor
2017 Bucks County Courier Times' 'Best of Bucks' Chiropractor
2015 Bucks County Courier Times' 'Best of Bucks' Chiropractor
2014 Bucks County 'Forty Under 40' Honoree
Recognized by the Bucks County Courier Times as one of forty up-and-coming, dynamic business and community leaders under forty years old who are making a difference in Bucks County. As per the Courier Times, 'These local leaders have demonstrated impressive career achievements and unparalleled community involvement in Bucks County through their time and talents'.
2014 Bucks County Courier Times' 'Best of Bucks' Chiropractor
2013 Bucks County Courier Times' 'Best of Bucks' Chiropractor
2012 Bucks County Courier Times' 'Best of Bucks' Chiropractor
COMMUNITY INVOLVEMENT

Lower Bucks HeartChase, Executive Co-Chair, 2013, 2014
Oversaw the planning, organization and execution of HeartChase, an American Heart Association initiative, the first of its kind in the Lower Bucks County area, that raised over $31,000 for programs and research for both cardiovascular disease and stroke awareness

Bristol Borough Business Association Board Member, 2012 - 2016

RELATED EXPERIENCE

USA Swimming Chiropractor, July 2007 - Present
Approved provider by USA Swimming to provide chiropractic care to the athletes of USA Swimming as a member of their Sports Medicine Network
Official Chiropractor of the Bristol Riverside Theatre, August 2012 - December 2021
Provided chiropractic care to the actors, performers, staff and crew of the Bristol Riverside Theatre
Chiropractor to Professional Athletes, March 2007 - September 2007
Provided chiropractic care to the athletes of the Trenton Thunder minor league baseball team
Philadelphia Council AFL-CIO Chiropractor, July 2007 - July 2008
The only chiropractor in the Lower Bucks County and Northeast Philadelphia areas approved by the Philadelphia Council AFL-CIO to provide chiropractic care to the members of Philadelphia's various labor unions as part of their PhillyUnions.com Preferred Partners Network
MVP Sports Training and Fitness, Hulmeville, PA March 2006 - March 2007
Provided chiropractic care to the athletes training at MVP

CONTINUING EDUCATION AND DEVELOPMENT

Simplifying HIPAA, Bradley King, Abyde, Online Webinar, September 2023

Evidence Based Assessment of Low Back Pain, Simon Dagenais, DC, PhD, Online Webinar, August 2022

Recognizing and Reporting Child Abuse: Mandated and Permissive Reporting, University of Pittsburgh School of Social Work, July 2022

Biomechanical Testing, Treatment and Extremity Adjusting, Dr. Mark Charrette, Philadelphia, PA, April 2022

Knee Anatomy, Variants and Biomechanics, Thomas Lee Pope, MD, FACR, Online Webinar, September 2021
Keeping Life in Balance - Improving Posture, Patterns and Performance, Dr. Jeff McKinley, Philadelphia, PA, April 2021

Lower Extremity Biomechanics and the Management of Lower Extremity Conditions, Dr. Kurt Juergens, Philadelphia, PA, July 2020

Recognizing and Reporting Child Abuse: Mandated and Permissive Reporting, Pennsylvania Family Support Alliance, May 2020

Twelve Components of a Bullet Proof Personal Injury Report, Shawn Steel, Esq., Online Webinar, April 2020

Concussions and Athletes, Paul Hooper, MD, MPH, MS, Online Webinar, March 2020
Introduction to Ethical Billing Practices, CEvantive, Online Webinar, March 2020
Obesity and Back Pain, Paul Hooper, MD, MPH, MS, Online Webinar, March 2020
Assessment and Treatment of Foot and Ankle Injuries in the Elite Athlete, David Porter, MD, PhD, Online Webinar, March 2020
Integrating Physiotherapeutics and Laser Therapy, Dr. Nelson Marquina, King of Prussia, PA, September 2019

Recognizing and Reporting Child Abuse: Mandated and Permissive Reporting, Pennsylvania Child Welfare Resource Center, May 2018

Advanced Biomechanical Testing and Treatment for the Active Patient, Dr. Tim Maggs and Dr. Jennifer Pedley, Newark, NJ, March 2018
Extremity Extravaganza, Dr. Mitch Mally, Bethlehem, PA, August 2017
Recognizing and Reporting Child Abuse: Mandated and Permissive Reporting, Pennsylvania Child Welfare Resource Center, July 2016
Tools and Techniques For a Sports Chiropractic Practice, Dr. Kurt Juergens, Philadelphia, PA, May 2016
RockTape Fascial Movement Taping, Dr. Perry Nickelston, Wayne, NJ, June 2015
Advanced Extremity Adjusting: Deliberate Practice Protocols, Dr. Mark Charrette, Philadelphia, PA, April 2015
Documentation, Compliance and ICD-10 Coding, Dr. Mario Fucinari, Wilmington, DE, April 2014
Stress, Structure and Neurology, Dr. Brian Jensen, Wilmington, DE, May 2013
Advanced Decompression Therapy and Active Core Rehabilitation, Dr. Randy Reed, Philadelphia, PA, May 2012
Caring 4 Kids - Getting From Here to There, Dr. Laura Hanson, Online Webinar, April 2012
Imaging, Biomechanics and the High School Athlete, Dr. Tim Maggs and Dr. Terry Yochum, Philadelphia, PA, April 2012
Introducing Nutrition to Manage 'Everyday Problems' in the Chiropractic Office, Dr. Christopher Bump, Online Webinar, September 2011
Comprehensive MRI of the Spine, Dr. Terry Yochum, Bristol, PA, September 2011
Injuries From Low Impact Collisions, Dr. Daniel Dock, Philadelphia, PA, August 2010
ChiroPractical Rehab - Integrating Active Rehabilitation for Spinal Health and Wellness, Dr. John Hyland, Philadelphia, PA, March 2009

Detoxification and Subluxation, Dr. Tyran Mincey, King of Prussia, PA, August 2008

Foot Levelers' 55th Anniversary Success Conference
Cherry Hill, NJ, October 2007
- Practice Coding and Documentation, Kathy Mills Chang
- Charrette Adjusting Protocols For the Lower Extremity, Dr. Mark Charrette
- Pediatric Neurology, Dr. Laura Hanson - ChiroPractical Rehab for Chronic Spinal Conditions, Dr. John Hyland
- The Essentials of Communication, Dr. Rob Jackson - The Effects of Orthotics and Gait on the Spine, Dr. Brian Jensen
- Integrating Parker Principles with Chiropractic Philosophy, Dr. Fabrizio Mancini
- Chiropractic Business Ethics, Dr. Mark Mandell
- The Science of Lifetime Care, Dr. Eric Plasker

New York Chiropractic College Elective Courses
- Rheumatology
- Pediatrics
- Activator Technique
- Drop Table Technique
- Sacro-Occipital Technique (SOT)

AFFILIATIONS

- American Chiropractic Association
- Concerned Parents of Young Athletes (CPOYA)
- Lock Haven University
- New York Chiropractic College
- Pennsylvania Chiropractic Association
- RockTape
- USA Swimming